MILAN – We met Dr. Pasquale Muraca, founder and president of the company, Beverfood.com Edizioni, to review the economic and structural aspects of the drinks sector in Italy, with particular reference to mineral water. For over 20 years, Beverfood.Com Edizioni has published the Bevitalia annual report on the sector, which systematically updates the information framework for the non-alcoholic drinks sector as regards markets, the competitive landscape, producers, brands, specialist suppliers and distributors, besides publishing daily news and articles on the sector through the drinks portal www.beverfood.com
Before talking specifically about the mineral water sector, let us briefly give a general overview of the beverage sector in our country
Excluding hot drinks and limiting ourselves solely to the cold drinks sector, we note that the Italians consume around 21 billion litres of commercially produced cold drinks every year, including:
…around 4 billion alcoholic drinks (beer, wine, liqueurs and spirits), for a per capita consumption of 65 litres/year
…a little over 15 billion litres of non-alcoholic drinks (mineral water, still and carbonated soft drinks, juices and fruit drinks), for an overall per capita consumption of 250 litres/year.
According to Federalimentare's estimates, the food industry as a whole delivers a production value of 132 billion euros per year. The production value of the drinks sector, on the other hand, is estimated at around 20 billion euros, therefore amounting to 15% of the total value of the Italian food industry. The Italian food industry overall has 400,000 positions of direct employment, of which around 60,000 involve expertise in the drinks sector.
How deeply rooted in Italians is mineral water "culture"?
First of all, let us clarify the quantitative aspects of mineral water consumed in Italy. In our country over the past decade, we have had an annual per capita consumption of bottled water fluctuating between 180 and 190 litres/year. This is a very high level but not the highest in the world, as is sometimes written in the press. According to data from Zenith International, one of the biggest research and consultancy companies in the world for the food and beverage sector, the rankings for countries with the highest consumption of bottled water are as follows: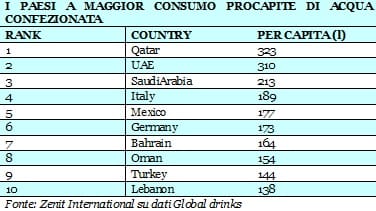 We are superseded by various countries in the Middle East and we are now also just ahead of Mexico, Germany and even other Middle Eastern countries, but the consumption of water produced in Italy consists of over 98% mineral water (approved by the Ministry of Health, bottled directly at source, with consistent quality over time), while in the countries which are ahead of us in overall per capita consumption, processed bottled water dominates, i.e. water which has undergone purification procedures and is sometimes mixed with mineral salts. Therefore, if one looks exclusively at the consumption of mineral water, Italy boasts the record for per capita consumption. In the past, various producers have attempted to make inroads into the Italian market for bottled mineral and ordinary water, but no one has succeeded.
What are the reasons behind this record?
We must start way back: at the end of the 8th century or beginning of the 9th century. Then, the first bottled water came from thermal springs (which Italy has many of in all regions of the country) and, as such, were perceived as water with health-giving or medicinal properties. The original value assigned to mineral water in terms of health survived and took root over time. During the post-war period, with the relentless development of the economy and disposable income, Italian families started to increase their food consumption and mineral water, as water of quality, began to become increasingly integrated into our normal diet.
Naturally, the industry has also contributed to the development of a "culture" of drinking mineral water, which, in comparison to all other types of water, can claim the purity of its source, consistency in its composition over time, clear communication on the label of all the chemical/physical features of the product (in a way which provides the consumer with the most appropriate criteria for choosing that particular water), besides the guarantee of quality at all stages of its lifecycle (extraction, bottling and distribution). Moreover, given that water is the main component of our bodies, we certainly cannot blame the Italian consumer for wanting to make sure they have high quality water, of optimal reliability, with the specific characteristics which best suit our bodies and personal tastes: thus, a good mineral water.
Talking of consumption and production, what is the latest data on mineral water in Italy? And what is the trend?
Notwithstanding the economic crisis and a poor summer season in terms of weather, the balance of mineral water sales on the Italian market in 2014 proved to be positive. Overall sales in all channels (contemporary distribution, discount, traditional retail, door-to-door selling, HORECA, or vending machines) are evaluated at a volume of around 11,350 million litres, with a very slight growth of around 1% and a per capita consumption amounting to around 189 litres/year. It should be borne in mind that for other non-alcoholic drinks (carbonated and still soft drinks, juices and other fruit drinks), consumption by volume during the same period dropped by over 5%.
It is evident that mineral water is considered by the Italians as an essential beverage (not to be relinquished even when times are tough), with a healthier image than soft drinks and all fruit drinks, which are by contrast viewed more as luxury goods and as such, are easier to give up in times of economic difficulty. Finally, we must not forget that mineral water in Italy costs very little and therefore, regardless of other consumption, it represents affordability for all economic sectors.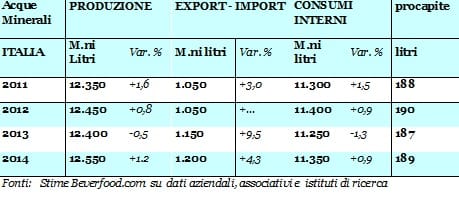 Moreover, bearing in mind positive foreign trade of 1.2 billion litres, national production may be estimated at around 12,550 million litres. Non-carbonated (i.e. natural) water points to a more positive sales propensity with a growth in volume of around 3%. While all the various categories of sparkling water have seen a drop in sales volume. The impact of natural water therefore continues to grow, now representing over 2/3 of the total sales volume. Sparkling water tends to be selected more often in the catering industry for its greater digestive capacity. Consumption is well distributed across all regions of the country, taking into account however that in the South, the average sale prices are lower, due also to the wider distribution of two litre bottles.
From the data you have cited, the important role of Foreign Trade is shown in the Italian mineral water sector. Can you give us some details on that?
In 2014, exports of Italian mineral water increased once more, bringing with them 1,229 million litres, for an overall value of around 400 million euros. In the last three years, exports have grown by over 15% in terms of volume and over 27% in value. Exports of mineral water currently represent around 10% of the total national volume of production, but over 15% in terms of value, considering the better euro/litre prices obtained abroad.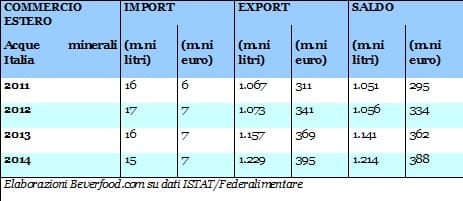 Italy exports mineral water to over 100 different countries across the globe. However the top 8 markets (USA, France, Germany, Switzerland, Canada, Australia, UK, Japan) take up over three quarters of the total. The Italian mineral water industry is carving out a prominent position for itself in the domain of quality Italian catering abroad, offering Italian mineral water as a typical product of Italian gastronomy and the Mediterranean diet. Mineral water is now perceived as a symbol of the Italian lifestyle. The most active Italian group on the foreign markets is San Pellegrino, specifically with the brands S.Pellegrino (sparkling) and Acqua Panna (still). These are included amongst the strategic brands of the Nestlè Waters Group, the global leader in the world's bottled water sector. However, other large and medium-sized Italian producers are also moving with growing interest into the foreign markets.
As regards the economic worth of the sector, how much wealth is produced by the mineral water market in Italy?
The Italian mineral water sector, as mentioned earlier, produces 12,550 million litres overall and the bottling industry achieves a turnover estimated at around 2.4 billion euros, of which over 395 million (namely 16% of total production) are earned from exports. Consumer value (i.e. how much consumers pay in the various purchasing channels) can be indicatively estimated at around 5 billion euros. It must be taken into account that on average, mineral water is sold at much lower prices in Italy, which explains, alongside other factors, the higher consumption.
According to Mineracqua's analyses (the National Federation of Italian Producers) the mineral water sector provides direct employment for at least 7,000 staff in our country, to which must be added around 30,000 employees in related activities (packaging supplies, transport and logistics services, distribution and retail sales, and public services). According to the latest figures from Beverfood.com, around 137 companies are active in the sector, bottling and selling on 265 mineral water markets. Big companies with turnover of over 100 million euros may be counted on the fingers of one hand, but there are also 25 companies with turnover of over 10 million euros per year and numerous small local companies distributed across the entire national territory.
All the springs where mineral water is extracted are located in non-urbanised areas, with benefits for these zones, which are usually situated on the margins of the economy. Amongst other things, it is shown that Italian mineral water companies operate actively in implementing preventive and protective measures for preserving the purity of their mineral springs. Companies dedicate large ongoing investment to the protection of the aquifers in compatible exploitation, avoiding "disruptive" processes for the subterranean water, which is of significant worth to the sector. What not many people are aware of, however, is also that a contribution based on values is very important for protecting Italy's great hydro-mineral heritage.